José Gutierréz Mestre
Biography
José es socio de la firma. Es abogado admitido en la práctica en Colombia. Cuenta con experiencia de más de 25 años como asesor legal de empresas colombianas y del exterior, principalmente en las áreas de litigios y derecho privado.
Adicionalmente, José es árbitro y secretario inscrito del Centro de Arbitraje y Conciliación de la Cámara de Comercio de Bogotá. Ha liderado varios trámites arbitrales (nacionales principalmente e internacionales también), ante los Centros de Arbitraje y Conciliación de las Cámaras de Comercio de Bogotá y Medellín para Antioquia principalmente, así como reclamaciones prejudiciales y procesos judiciales de carácter societario ante la Superintendencia de Sociedades y la jurisdicción ordinaria, entre otros. También ha participado activamente en procesos de adquisiciones, debida diligencia, fusión, escisión y en general, la estructuración de grupos empresariales en Colombia, estableciendo los esquemas societarios aplicables pertinentes en el país y su operación e interacción con sus casas matrices, subsidiarias y afiliadas en el exterior, determinando, igualmente, los acuerdos internos entre los respectivos asociados. José también ha sido profesor universitario en derecho comercial y financiero
Abogado de la Universidad de los Andes (1995) y L.L.M. en Derecho Internacional y Comparado de la University of Wollongong (2000).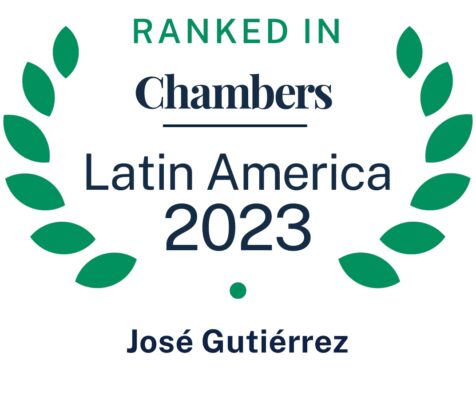 Education
Abogado – Universidad de los Andes
LL.M – University of Wollongong, Australia
José Gutiérrez joins the rankings this year after eliciting plaudits from market onlookers for his capabilities in the Colombian dispute resolution realm. Clients state: "José Gutiérrez leads the litigation team and has vast experience and knowledge, which allows him to handle each one of our cases."
"Reviewed by Chambers and Partners 2023:"

"José Gutiérrez se une a la clasificación este año luego de recibir el reconocimiento del mercado por sus capacidades en el ámbito de resolución de disputas en Colombia.

Los clientes afirman: «José Gutiérrez lidera el equipo de litigios y cuenta con una vasta experiencia y conocimiento, lo que le permite manejar cada uno de nuestros casos».